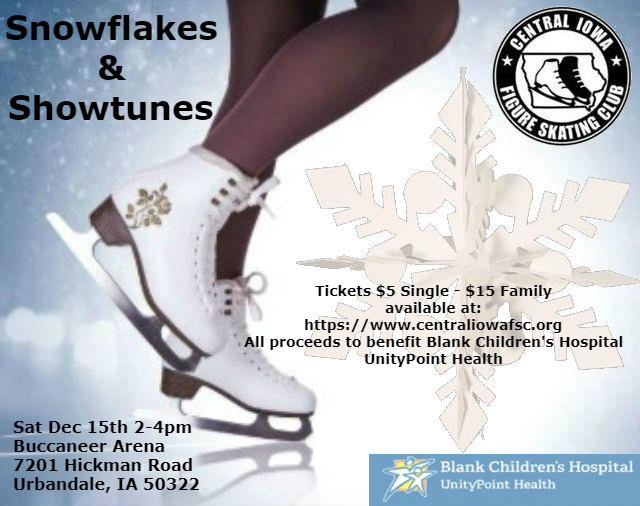 You can print the show entry form and return to Burton or your coach with payment.
You can also register online below but be sure to print the form for additional information.
Please note the entry deadline extended till Nov 25th!
Thank you!
Even if you pay online please print and return entry form to Coach Burton.
2018 winter show Registration FINAL.docx
2018 Winter Show
Snowflakes and Showtunes
When:

Saturday, December 15th@ 1:30 pm-4:30pm

Location:

Buccaneer Arena - 7201 Hickman Road, Urbandale, IA 50322

Tickets:

Registered skaters will receive 2 family member tickets free.

Donations will be accepted at the door.

Registration Form:

Coaching Team:

Elena Tobiash, Principal Coach;
Igor Velikanov, Principal Coach;
Burton Powley, Principal Coach;
Inna Kuznetsova, Coach;
Dylan Perkins, Coach

Eligibility:

You must be a CIFSC member or a CIFSC Learn-to-Skate participant. Non-members must contact Burton Powley.

CIFSC Learn To Skate (LTS) participants will perform in a group number specifically choreographed to emphasize the novice skating moves and elements. Music for all group numbers will be selected by the show's artistic director or coach.

Registration Deadline:

November 15th, 2018 (Accept late registrations with an additional $20 late fee, if space allows.)

Solo skaters; please email or provide your music to Elena Tobiash/Igor, by November 15th 2018.

For free assistance in editing music, email Igor at kotmul@inbox.ru

General Requirement:

Skaters must bring a long blanket on the day of the show.

Music and Performance Requirements:

Skaters below Juvenile level:

Solo number cannot exceed 1 minutes and 40 seconds.

Advanced skaters, Intermediate level and beyond:
Discuss music length with CIFSC principal coaches & coach.

Each CIFSC member can perform one solo number and one group number in addition to participation in the group numbers.

Additional skater solo and group performances must be approved by Principal coaches.

Skater Registration and Fees:

LTS Skaters:

$40 for first skater in your family, $20 for second skater in your family:



CIFSC Individual Skaters: $85 per skater:



Additional numbers: $30 each

2nd skater per family:

Sponsorship:

Sponsorship: sponsorship is encouraged

Each family is asked to contact businesses for financial contributions. In lieu of contacting the businesses, a skater may choose to make a $30.00 personal donation to the show. All skaters will receive a credit equal to 10% of the amount if they collect $50 or more from businesses. The credit will be applied towards the skater's ice fees.

Volunteers Needed:

The Ice Show relies on the service of volunteers for a successful show. One family member will be asked to volunteer for a show committee during this period in addition to assisting with the actual production.


We need help with the following committees: Publicity, Set-up and tear-down, Practice Ice Monitor and/or Check-in, Hospitality and Ushers.