Click to register for LTS

Learn to Skate sessions have been posted for the 2018 - 2019 skating season.
We offer lessons for beginners and experienced skaters. We have sessions for children and adults. Adults may skate with their children during the practice ice part of their session.

Beginning Skating

Pre-K (Snowplow 1,2,3) Ages 3-5
These classes use games and introduce moves to young skaters.

Level 1: Ages 6-8
Beginning skaters learn swizzles, glides, stops and 2 foot turns.

Beginner Adult/Teen:
Students will learn beginning stroking, stopping and crossovers.

Skating

Level 2:
Students will learn 1 foot glides, backwards swizzles, 2 foot turns and backwards gliding.

Level 3 & 4:
Students will learn advanced stroking, slalom, 2 foot spins, crossovers, 3 turns

Level 5 & 6:
Students will learn backward edges, one foot spins, t-stop, spiral, lunge and bunny hop.
Bridge Program
Level 3 & 4 Skaters will learn more advanced figure skating moves and techniques. Click here for more information.
Hockey Skating

Basic Hockey Skating Skills
This is a good first step towards playing hockey. Students will focus on the basic skating skills needed to play. These include hockey stops, quick turns, footwork and balance. Hockey skates, stick helmet are required. Full hockey gear is not required, but recommended.

We have several types of memberships available including ones for full members, first time introductory members, college students, members of other skating clubs and Learn to Skate USA participants. Click here for more information
Full Membership in the Central Iowa Figure Skating Club includes the following benefits:
Access to the club's ice time at a member price.

Individualized training to fit the needs of a skater, including testing preparations to advance in figure skating levels.

Participation in club activities, including group lessons, competitions, exhibitions and shows.

US Figure Skating membership.

Subscription to US Skating Magazine.

The right to participate in the club's Board via open election.

Privilege to order club merchandise.
*All memberships are non-refundable. All 2018 - 2019 season memberships expire on June 30th, 2019.
Purchase Ice Time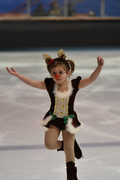 Members, were have implemented a new system for you to pay and keep track of your figure freestyle time.
This system replaces the manual card system.

You now purchase tickets for ice time online. The tickets contain a QR code that is scanned before you enter the ice. Or have your attendance marked.
You can purchase tickets for a single session or multiple sessions. The tickets can be printed out or displayed on your cell phone.
The largest benefit of this new system is that you can log into your account and view when each ticket was used and how many times remain.

Parents, we need help scanning tickets at figure freestyle sessions.
Let us know if you can help us out with your iPhone or Android cell phone. Or help taking attendance.
Contract Ice

We now offer a contract ice program. You can sign a contract agreeing to purchase "all you can skate" for each month in the skating season. By agreeing to this, you will receive the discounted rate of $125 per month. Additional, graduated, rate is added for additional family member participant. Contact Coach Burton or Derek for more information.